A history of innovation and quality
Founded in 1996, Acer Inc. is deeply rooted in innovative design and quality manufacturing.
The roots of the current business go back to 1981, when the owners of Acer helped build the first prototype of the Koskovich Omni Saw.
In 1990, the owners founded Excel Manufacturing and designed and manufactured large baling systems for recyclables. Advanced designs, superior fabrication and modern computer control systems allowed Excel to become a market leader in balers.

Acer has been involved with the truss industry for 25 years and developed a long-term relationship with The Koskovich Company, designing and manufacturing the Bulkfeeder lumber delivery equipment sold under the Koskovich brand.
Today we are still innovating, with the introduction and continued success of the Ranger RS lumber retrieval system. Invented and manufactured by Acer, the Ranger RS is one of the most cost-effective and reliable products to be introduced to this market. Previously sold under the Woodrunner name, the Ranger RS has a solid track record of efficiently feeding lumber to linear saws in the truss industry. We also designed and currently manufacture the manually fed MiTek Auto Deck.
Acer is constantly working on improvements to our systems to keep up with changes in the industry.
Keeping equipment easy to run and maintain is always a priority with our designs.
Our strengths as a business
Acer is somewhat unusual in that we design and manufacture all major components of our machinery. Our agile and innovative engineering staff design every piece. As the needs of our customers change, we respond with new ideas and sophisticated solutions.
With modern solid modeling software, and our own CNC press brake, machining center, lathe, and laser cutter, we don't have to compromise on component design or quality.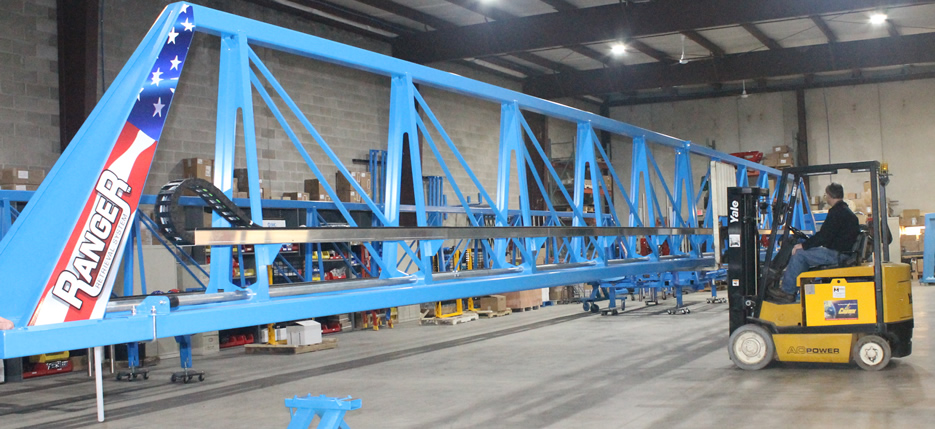 From forming and welding, to machining, painting, and wiring, our skilled and versatile employees do it all in-house.
Adding a laser to cut our own components is another step we have taken to keep work in house. We devote significant resources to research and development and evolve our designs and software as the industry changes. We strongly believe in providing a safe, comfortable work environment and stable employment for our staff. Their loyalty and hard work show in the quality of the machinery we build. Our thorough design analysis, careful workmanship, and comprehensive testing ensure the machinery we build will operate reliably and profitably for many years.
Acer Inc.
301 Industrial Dr
Rushford, MN 55971
Monday-Friday 7:30am – 4:30pm (CST)